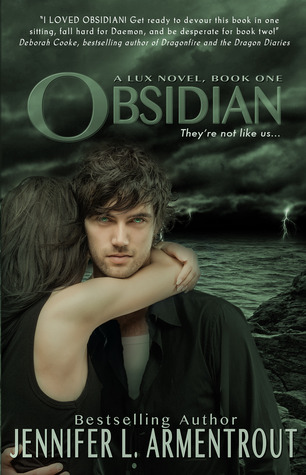 Title: Obsidian
Author: Jennifer L. Armentrout
Series: Lux
Book: 1
Rating: ★★★★★
Blurb from Goodreads:
Starting over sucks.
When we moved to West Virginia right before my senior year, I'd pretty much resigned myself to thick accents, dodgy internet access, and a whole lot of boring... until I spotted my hot neighbor, with his looming height and eerie green eyes. Things were looking up.
And then he opened his mouth.
Daemon is infuriating. Arrogant. Stab-worthy. We do not get along. At all. But when a stranger attacks me and Daemon literally freezes time with a wave of his hand, well, something... unexpected happens.
The hot alien living next door marks me.
You heard me. Alien. Turns out Daemon and his sister have a galaxy of enemies wanting to steal their abilities, and Daemon's touch has me lit up like the Vegas Strip. The only way I'm getting out of this alive is by sticking close to Daemon until my alien mojo fades.
If I don't kill him first, that is.
My Rating/Thoughts:
"The day my internet was hooked up was better than having a hot guy check out my butt and ask for my phone number."
This book was phenomenal and I absolutely loved it! This book is filled with great characters, great dialogue, and just a hot steamy romance. A nice added touch is that the love isn't instant either. The attraction is instant, but they don't fall head over heels for each other right away. In fact, they fight that attraction the whole book and it just makes it that much more intoxicating! I loved reading their dialogue so much and was constantly laughing at their banter. I loved how sarcastic Katy was and how Daemon brought out that side of her that made her not want to be the "boring" and safe Katy. It was so funny to me how she would bring up frequently how annoyed she was that he was poking her with his pen in math class. I don't know why, but this was hilarious to me.
I loved Katy's character. I love that she was a little book nerd like me that enjoyed reading books and reviewing them on her blog. She was so relatable and I really enjoyed her. She wasn't the typical annoying teenage protagonist and it was refreshing. She didn't spend all her time swooning over Daemon even though she was attracted to him, she tried to deny it and it was just great to see her scenes with him. This whole book could have been about their time together with absolute no conflict and I still would have given it five stars because they are just great.
"Beautiful face. Beautiful body. Horrible attitude. It was the holy trinity of hot boys."
Now there was no denying how attractive and hot Daemon was. If this guy isn't your book boyfriend then I applaud you for not falling for him. He's so swoonable and the right amount of bad boy that will make you wish he were real. I think I loved how protective he was over Dee as well. It was so touching how much he looked after her and the lengths he would go to make sure she was safe. It always made me so giddy when he would call Katy "Kitten" It was like when Patch would always call Nora "Angel" and she would hate it, but you know they secretly were fighting a million butterflies in their stomach.
But my other favorite character has to be Dee! How awesome is it that I finally have my name in a book (well nickname, but it counts)! I loved her so much! I felt so sad for her at the beginning because you could just tell how badly she wanted a friend by how tightly she clung to Katy. I just wanted Daemon to leave her alone and let them be friends! I definitely want a friend like Dee. She's awesome and so ballsy. I couldn't stop laughing when she hid Daemon's car keys and wouldn't give them back until he earned bonus points by being nice to Katy. Go Dee!
I won't go into the plot because I don't want to give away too much, but it was really interesting to read. I look forward to reading more about the Lux and Arum. I am so invested and obsessed with this series already that I can't believe I had this on my shelf for so long and kept putting it off. I feel ashamed...
Would I recommend? HELLS YES!