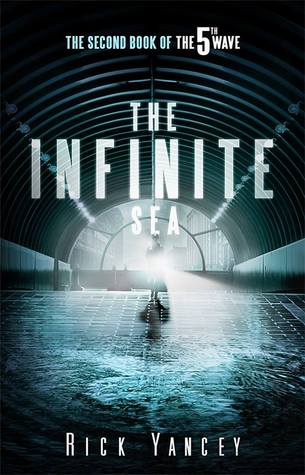 Title: The Infinite Sea
Author: Rick Yancey
Series: The 5th Wave
Book: 2
Rating: ★★★★
Blurb from Goodreads:
How do you rid the Earth of seven billion humans? Rid the humans of their humanity.
Surviving the first four waves was nearly impossible. Now Cassie Sullivan finds herself in a new world, a world in which the fundamental trust that binds us together is gone. As the 5th Wave rolls across the landscape, Cassie, Ben, and Ringer are forced to confront the Others' ultimate goal: the extermination of the human race.
Cassie and her friends haven't seen the depths to which the Others will sink, nor have the Others seen the heights to which humanity will rise, in the ultimate battle between life and death, hope and despair, love and hate.
My Rating/Thoughts:
"It isn't that lies are too beautiful to resist. It's that the truth is too hideous to face."
I absolutely loved The 5th Wave, but this book was just okay for me. I still enjoyed reading it, but I didn't get as much out of it as the first book. It just feels like a true filler book in my opinion. I felt like we didn't get to see much of Cassie and Ben as much as we did Ringer back in the compound. The whole first half of the story was just Cassie and Ben waiting around for Evan Walker to come back. It was uneventful. Even Ringer's POV was really long at the last third of the book and it still felt there was a lot of nothing going on.
Cassie and Ben were holed up in the hotel waiting for Evan to come back. I did not have a problem with this so much as what happened when Evan did return. He came back with the warning of Grace and that she was a major problem for them to escape and leave the hotel, but it just seemed a little off to me. Grace didn't serve a real purpose in my eyes besides the fact that she was brought in to turn Cassie into some insecure, jealous girlfriend when she realized she and Evan had a history together. Seriously, Cassie acted so immature upon meeting Grace that I was disconnected from her for a while because she was being an idiot. I just didn't think Cassie was as a good character as she was in the first book. Maybe because we didn't get to see her in the same light, but she kind of annoyed me. I still found her sassy and funny, but I just wasn't connected to her. For being "in love" with Evan as she seemed to say she was, she didn't really act like it either. I missed my cute, romantic Evan. I wanted more of him!
I am happy for the multiple POVs that this book brought. It gave us more Ringer, another longer chapter for Evan, and Poundcake! It was really interesting to see his backstory and the reason why he doesn't talk. I felt so sorry for him! The only thing it lacked was a POV from Ben. I kind of missed his thoughts and feelings in this book. I hope we get to see his side in the last book.
As for Ringer, I actually really enjoyed her the most and I think her chapters were what actually gave this book a higher rating than originally planned. I like that we see her backstory as well. We learn what happened to her before she was recruited, about her dad, and her name! Marika. Thought if I am being honest, the first couple of chapters I felt like I didn't really care about her (sad, I know, but I just didn't) but her last POV really opened up doors. I just kind of don't like that it was soooooo long. I think it should have been broken up more throughout the book. We didn't see her at all and I kept wondering what happened to her but then right when we see the big explosion at the hotel, we switch to Ringer for 100+ pages?! I was anticipating going back to Cassie and Ben so badly that sometimes I felt myself distracted with Ringer's story. I was getting bored reading about her just sitting in bed and not being able to eat. But I did enjoy her interactions with Razor (Alex, awe). I really liked his character as well. I thought it was so cute how he brought her a chess board and told her to teach him because she wanted to play. And the fact that he made up that silly chaseball game for her was so cute to me. I don't care if it maybe was a part of Vosch's plan, I thought it was cute. I just really liked their relationship together. I liked that he brought out a softer side of Ringer and was making her tell "jokes."
"He brought me from the tomb. He raised me from the dead. He risked his life so I might have mine."
Which was nice to see him try to cheer her up and lighten her up because she's just so angry! She's so full of rage! And God knows Ben wasn't getting a smile out of her.
"My anger is greater than the sum of all lost things."
Speaking of Vosch....what?! The twist involving the Others was pretty interesting and the reasons behind using Ringer as a tool was a pretty nice flip as well. Let's go hunt, Evan now because he fell in love! That's awful! Unacceptable! But I thought it was a lot Yancey threw at us all at once at the end. The rat metaphor was like "whoa mind blown!" No wonder we were so obsessed over those rats. These aliens basically see us as vermin and we are contaminating and ruining our home. We need to be wiped out. However, are they really aliens? What is actually happening? This series definitely took a nice turn and I am intrigued, so I am excited to see what this all actually means.
But Ringer was pretty awesome and has definitely become my new favorite. Fierce! So Fierce.
"I don't want to save the world," I tell him. "I'm just hoping I might get the opportunity to kill you."
I really liked this book. Solid four stars, but it wasn't as exciting as the first book even though we are given some pretty major questions. I think it could have been a bit better, maybe better spaced. I don't know. I just expected something more since it was one of my highly anticipated reads since I read The 5th Wave, so maybe I just expected more, but again it felt like a filler book. I can't wait for the last book though!