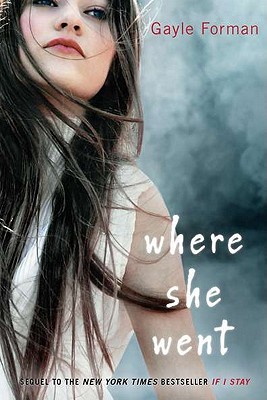 Title: Where She Went
Author: Gayle Forman
Series: If I Stay
Book: 2
Rating: ★★★★★
Blurb from Goodreads:
It's been three years since the devastating accident...three years since Mia walked out of Adam's life forever.
Now living on opposite coasts, Mia is Julliard's rising star and Adam is LA tabloid fodder, thanks to his new rock star status and celebrity girlfriend. When Adam gets stuck in New York by himself, chance brings the couple together again, for one last night. As they explore they city that has become Mia's home, Adam and Mia revisit the past and open hearts to the future-and each other.
Told from Adam's point of view in the spare, lyrical prose that defined If I Stay Where She Went explores the devastation of grief, the promise of new hope, and the flame of rekindled.
My Rating:
"Letting go. Everyone talks about it like it's the easiest thing. Unfurl your fingers one by one until your hand is open."
If this book doesn't hit you right in the feels then I don't know what will. If you have read my previous review for If I Stay you know I loved it. But this book has got to be my favorite. Getting a glimpse into Adam's life after Mia was nothing but heartbreaking. His lyrics. His life. His emotions. He was just broken. He was living his dream and was a complete rock star. He wrote a more than successful album that sent his band off the charts, but he was extremely unhappy. After he and Mia broke up he went home and went M.I.A (lol Mia). But once he got himself on track he wrote some beautiful lyrics.
I loved the way Forman decided to write this novel. It was genius. Every chapter opened with Adam's lyrics and those lyrics was beautiful! I couldn't help but get so sad that Mia got her song. Well she actually got her whole album!
"First you inspect me.
Then you dissect me.
T
hen you reject me.
I wait for the day
That you'll resurrect me."
Mia, on the other hand, was at Julliard and a famous new rising star. She was a becoming the new Yo-Yo Ma. I enjoyed knowing that she ended up going to Julliard and was a rising cellist. Even though Mia had walked away from Adam and it was so depressing. I understood why she had to do it. I didn't blame her at all.
"You talked tome, but you didn't. I could see you having these two-sided conversations. The things you wanted to say to me. And the words that actually came out."
It was really heartwarming too to know that she didn't just close off her memories of her parents and brother. She didn't try to live her life without remembering them, she embraced them. She talked to them. She believed they were still around her.
"And then Adam Wilde shows up at Carnegie Hall on the biggest night of my career, and it felt like more than a coincidence. It felt like a gift. From them. For my first recital ever, they gave me a cello. And for this one, they gave me you."
And that ending?! Oh my gosh I couldn't stop crying!!!! It was beautiful, touching, and pure perfection. I couldn't be happier. This series was touching and I absolutely loved it. Thank you, Forman, for giving your readers a beautiful story about love, music, choices, and family.
Highly recommended.